Touching the Green to Get Back In Shape
Staff, Staff Writer
December 14, 2020
    Players on the football field got to touch the green for the first time in months in November to start conditioning. This was short-lived when the cases of COVID started to spike and the Kern High School District along with the CIF announced a pause until at least Jan 1, 2021 to resume conditioning. 

     While players got to be on the field for about a month they were excited to see each other and their coaches.  Safety precautions were taken before student athletes were allowed on the field. Each athlete was asked a series of health questions and then their temperature was taken before they entered the gates. Athletes were spaced out 6 feet apart with no equipment being used. Each team was placed in a different part of the field or on the practice field. Senior  Hardeep Jhaj stated that, "

"

the precautions are necessary to provide protection against COVID for the coaches and the athletes."

— Hardeep Jhaj, Football Player

He adds that COVID made them start their season later and "forces us to condition harder to be physically fit for the upcoming season". 

      Due to COVID all teams saw less student athletes come out for conditioning. Jhaj stated, " yes, there are definitely less players on the field this year but hopefully we have a great season." Head Coach Richard Cornford said that during conditioning  there were about 30-35 varsity players consistently and about 40 freshman. Cornford stated that just communicating with the players has been the most challenges this season with COVID. He also stated that the coaching staff, " really can't coach since we don't have a ball." 

     Cornford said that conditioning was going decent before the pause. He added, " the kids were mostly out of shape but they are giving a good effort." Jhaj stated that he wanted to improve on his " speed and agility" this season. He says that he has been preparing for the season by training three times a week. Returner Jaron Amos says that he also has been training everyday and goes " to the sports village for seven on seven practice at times. 

     Both Amos and Jhaj said that there have been some struggles this season having it pushed back. Amos says, " quarantine has made me think about a lot and I've had a good realization of certain things that I have to do in order to be successful in life and so now I want to put more effort into everything I do." Jhaj felt his struggle was "practicing good form".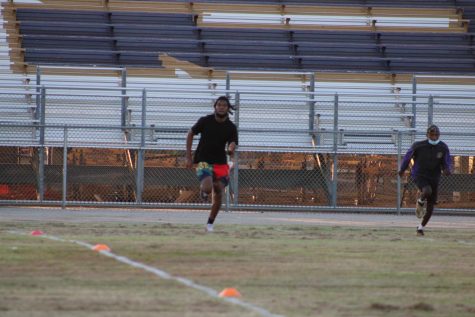 Cornford is optimistic that they will be able to go back to conditioning in January.  He added that he thinks that they will " probably have an abbreviated" season and looks forward to when they can practice with the footballs.