Fair Goers Come out to Join the Party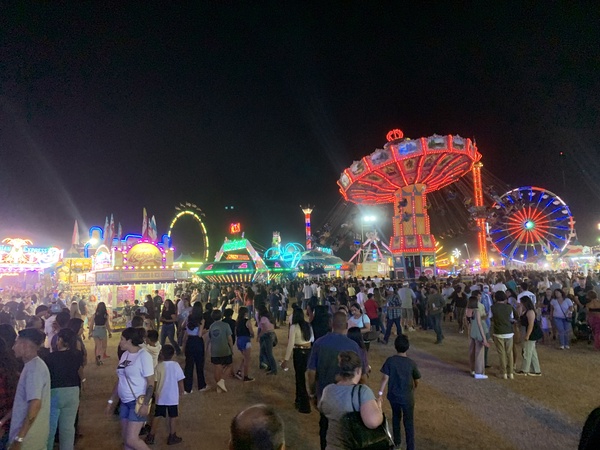 The big Kern County Fair is coming up and you know what that means! The fair brings a lot of fun and entertaining experiences for anyone that attends and it's a good place to enjoy yourself with friends and family. Quite a few people are excited for the fair, especially at Ridgeview High School, so we decided to interview a couple of people and see what their thoughts are on the fair. 
     Gio Mosqueda is starting his junior year, he states he has been to the fair multiple times over the years and always had a pleasant time each year. This year he is looking forward to seeing the new rides and games that'll be added because from what he has seen, it's always the same rides from the previous years and so on. Mosqueda also mentions that, "Spending time with my friends at the fair is one of my favorite memories at the fair because it makes the experience more enjoyable with the people you care about." The fair makes a lot of memorable moments for people because of the environment that's around them, where everyone is there to have a good time. The fair also includes food, which is another reason why people would go other than fun experiences. Mosqueda says that, "The food is pretty good but honestly it's a little bit too expensive, especially having to wait in long lines." 
     Tiffany Lemos, a junior at Ridgeview also enjoys the fair but admits there are some negative things about it.The downfall about the fair for Lemos is the weather conditions. Although the fair is very enjoyable, it'll also have an effect on you as well, such as how the weather is going to be if it's too cold or hot. Lemos states that the part she doesn't like about the fair is the dust and if it becomes windy it will mess with your allergies or get you sick. She recommends a selective clothing style that's appropriate for the fair, "you should wear closed-toe shoes, not any sandals and wear shoes that you don't mind getting dirty such as black shoes." She mostly suggests going to the fair when the weather is right instead of taking risks of getting sick or worse. 
     Pricing is also big when it comes to the fair too. Ridgeview sophomore, Lyly Stocker states that, "I think the fair money is worth it when you go with someone you know you'll have a good time with." As long as you are having a fun time with the people you spend time with, prices don't really matter because it's nothing to be worried about when you are enjoying yourself. Going to the fair is a fun event to go out but it'll be way better if you go with close friends and family. That will make the fair more of an amazing unforgettable experience. Stocker includes that "It wouldn't be the same because you're most likely to be yourself easier around someone you're comfortable with." Being around people that bring out the best of you is no doubt the ones you should bring to the fair for unforgettable moments.  
     To end things off, the fair brings out fun and unforgettable experiences for everyone to have a good time. Best moments hanging out with friends, going on rides, and enjoying yourself is the best life for a teenager. Where the community comes together and be one coming for all the same reason, to be entertained and spend time with the people you love.