Aiming High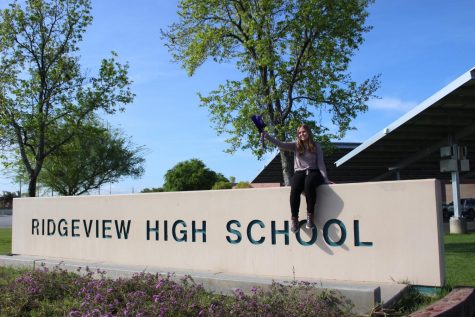 At Ridgeview High School, there have been many seniors that have come and gone. Many of them fulfill notable academic achievement during their time here, and are successfully able to continue their ambitions after graduation. However, few students have managed to achieve as much as Brianna Camero, star student of the class of 2019. Being a prodigy with a GPA of 4.56, participating in the school's tennis team, and being part of Mock Trial and forensics team, she is the model student for being "top of the class".
Throughout her time here at Ridgeview, Camero has had to undergo substantial development in order to achieve where she is now. When asked about her beginnings at Ridgeview, she explains, "freshman year I was very shy and hated public speaking, but my time here has made me do more through joining clubs and participating in school activities". She continues by adding that the participation factor is what has bolstered her confidence in herself and produced the mentality required to persist through her seemingly insurmountable tasks. With her many extracurricular activities, it was a difficult time for her, believing that the most difficult part was the time management factor. "I would sometimes go to tennis games, then have Mock Trial practice right after, and it really didn't give me any time to do homework for my classes, all I could do was just power through".
Camero's time at Ridgeview is coming to a close, but not without fond memories of her time here. She happily states, "My favorite part of Ridgeview is that community that I found after joining clubs and the people I have met because of these activities". With the impending arrival of graduation day, it also raises the question of "what next?" Believing that she is ready as she can be for college, Camero proudly says that she plans to advance to the University of Pennsylvania, a prestigious Ivy League research university located in Philadelphia. Despite the ~10% percent acceptance rate she got into this excellent school. She plans to major in International Relations, as well as minoring in criminology, and with hopes to continue her tennis career as well. With this topic in mind, she also added one piece of advice for future seniors, "Start you college applications as early as you can, many wait until the last minute and as a result don't get to go to where they want".
With her success as "top of the class", she is sure to leave a mark on Ridgeview's record of exceptional students, and when she graduates, to also inspire other students to reach even greater heights of academic excellence.