The Dynamic Duo is moving to the Next Chapter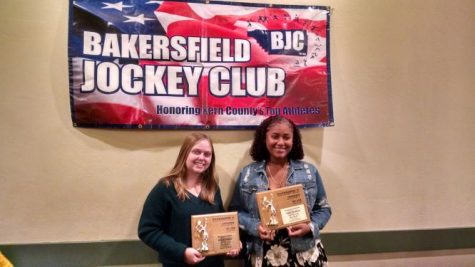 Ridgeview's varsity girl's tennis team did great this year with tying in league for first. The two that stood out the most for girls' varsity tennis are Brianna Camero and Ta'kokeyo Welch.
Camero has been playing tennis for three years. Her first year playing tennis she was on jv and now that Camero's a senior and she played on varsity this year she continued to improve. Coach Rice states, "Her game has improved over time with power and accuracy ( placing the ball in the corners)". Her motivation for tennis came from her pitching coach, coach Rice and coach Coughlin. Camero's initial reason for playing tennis was to keep in shape and keep her arm strong for softball, but once she developed a passion for the sport Camero quit softball to focus on tennis and academics. Throughout her years of playing tennis, Camero and her partner have won first in doubles in the league tournament and academically she has accomplished qualifying for valley debate and maintaining a 4.5 GPA. As her final season came to an end Camero says, "My favorite moment in tennis is by far when Toka and I won the league championship this year for doubles. The joy I felt in that moment was indescribable". In high school people go through lots of challenges and Camero's biggest challenge was becoming confident in who she was and becoming comfortable with public speaking". After high school Camero will be attending the University of Pennsylvania. The main thing that Camero is looking forward to in college is. "The new atmosphere and expanding my horizons by experiencing Philadelphia and meeting all the different types of people at school",added Camero.
The next outstanding tennis player is senior Ta'kokeyo Welch. Welch has been playing tennis for three years. She's always wanted to play tennis as a kid and high school gave her a chance. What makes Welch a strong player are "outlasting her opponents being a wall and getting everything back".Welch has received lots of awards such as two MVP plaques, most singles and doubles wins, first place medals in league and a Bakersfield Jockey club award. One of the things that welch will miss the most is going to matches out of town, which was one of her favorite things to do. Aside from tennis Welch has a favorite moment throughout high school, "My favorite memory in high school would have to be in BSU field trip where we went to USC and Santa Monica Beach" Welch says. After high school Welch is going to college in hopes of majoring in nursing. She looks foward to graduating and starting her career.