FFA's New Teacher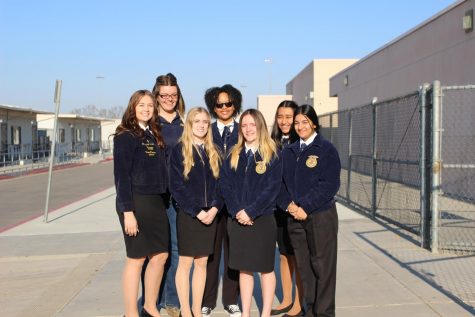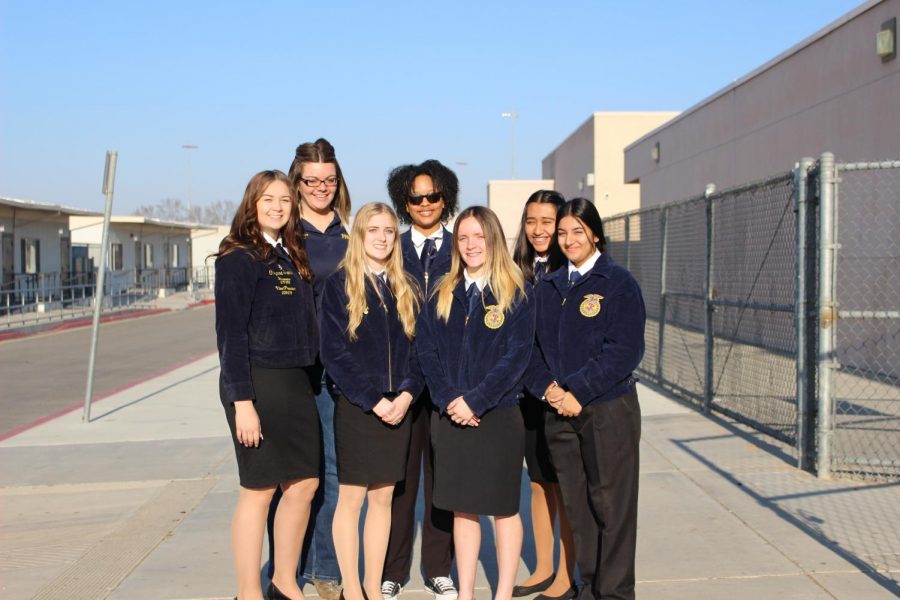 Agriculture is a big part of Bakersfield, with a large portion of it being farmland. The FFA program has been a resource for students at Ridgeview looking to go into the field of agriculture since 1994. The program offers students valuable skills ranging from communication to marketing methods, and teaches them about where food comes from.
Rachelle Reames has recently joined the FFA program as the new teacher at Ridgeview to revamp the program.
"FFA consists of the classroom, the SAE, which is the hands on experience, and leadership," says Reames. "We go to leadership conferences to learn how to be leaders within agriculture, and the hands on experience allows them to not only raise and care for animals but figure out where their food and clothing comes from, and produce their own crops and foods," she added.
FFA students are taught marketing skills with their crops, so they can grow their own food and potentially make a profit from it. According to Reames, "Students learn a lot in marketing; raising and growing of the product, and how to actually sell it to the consumer, which will benefit them in the long run." FFA can provide skills both within and outside of the agriculture field, even other career paths. "Skills that can be gained from the program include a hard work ethic, and communication skills," says Reames. "Students learn how to communicate with business owners and people within the agriculture industry, write resumes and cover letters, how to set up banquets, get donations, and we work with the students to teach younger elementary aged students about agriculture," she added.  FFA evidently has countless opportunities for gaining skills and experience for many different purposes. "All of these areas are good in the sense that they will prepare the students for employability afterwards, or even while they are in high school," Reames concludes.
FFA president Taylor Jones and Officer Ariadna Santillan have both been in FFA since their freshmen year. Jones joined the program during freshman orientation and had friends in it already. "FFA helped me to not be as shy and become who I am today," says Jones. "Definitely has had a lot of ups and downs, but it has been a lot of fun and I found what I want to do in life," she adds. In the future, Jones plans to attend Fresno or Oklahoma State and become an agricultural teacher.
Santillan learned about FFA in eighth grade from a friend and claims that, "FFA is a valuable program because it shows students the importance of agriculture and teaches them to be leaders." Santillan expresses that she became more of an outgoing leader because of FFA, and enjoys being an officer. "I decided to be an officer because I wanted to be more involved and get to know more people. Also, because I like helping others become leaders, motivating others to do better, and continue pushing them to be better leaders and accomplish their goals," says Santillan. Santillan also hopes to be a large animal vet in her career.
As the new teacher, Reames has some changes to make to FFA for the better. Reames says, "Some future changes that I plan on making within the FFA program is to get our garden up and going, and I would like the students to be having their SAE's, which is the supervised agriculture experiment, different projects that they bring so we can start having a mini farmers market." Reames says she enjoys being the FFA teacher for multiple reasons. "My favorite part of teaching FFA is that no day is the same. It doesn't always go as planned and that makes it sort of exciting," says Reames. "Just seeing the lightbulb go off as they find new concepts and learn new things, which would be the best part."