Untold Stories of the Pack: Danielle Smith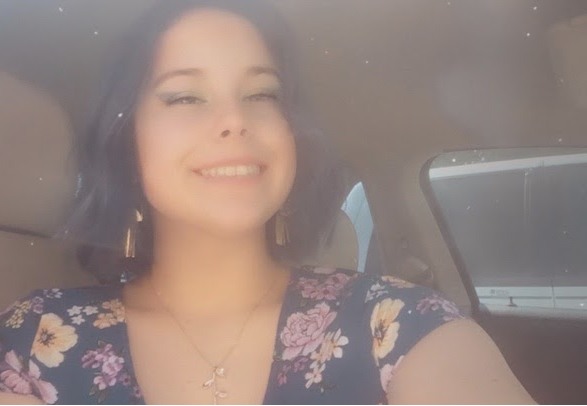 Many teens have not had to go through the emotional rollercoaster that Senior Danielle Smith has had to endure since a young age. Her mothers' death, her father in and out of jail, her own emotional struggle, and being kicked out of her house are just some life moments that have made Smith become a stronger person. "My life as a child was pretty chaotic, but my mom always did her best to make it nice. My mom couldn't work because of her bad case of carpal tunnel and my dad was in and out of prison. When I was with my mom I lived with four out of seven of my siblings from my mom's side in a small two bedroom apartment. Even though it was cluttered, being so close to my family was always helpful and made everyday more enjoyable," said Smith about her childhood.  
According to Smith, her father was in and out of jail during her young childhood.  "My father was in and out of prison since he was a teen, and had a history with stealing and fighting," said Smith.  Living with her mother brought Smith joy as a young child until tragedy struck. One day while visiting her father at the age of seven,  she learned that her mother passed away due to a drug overdose.  At this point in her life she was just starting to learn about her father and had to move in with him and her three month old sister. Smith admits her childhood was tough but says, " Growing up with him made my childhood tough but made me want to be a better person."
       During her Freshman year, Smith says that she started harming herself to help deal with the emotional pain that she was experiencing.  " Freshman year I started self harming in many ways and came close to attempting a few more times. Junior year I started using marijuana to push away my emotions and started taking sleeping meds so I could sleep without nightmares. Senior year I started taking antidepressants and tried therapy until my dad took me out after the second meeting using excuses and saying I didn't truly need it," said Smith about her life struggles. She said she started talking to counselors and found ways to have a healthy  output instead of being stuck in a bad environment.
Smith has said that growing up this way has made her a strong person.  "Growing up I was always being told I wasn't enough and I would never make anyone happy, so I finally stopped dwelling in the negativity I was forced into and started giving myself the love I have been missing. It was tough to try and ignore what I was surrounded by but I found my motivation in opening up to the spiritual side of life and the more I opened up to it I found myself being happy," said Smith. In her family she has found inspiration through her older sister Sam. "She's shown me that I can get through life through love for myself and love from my loved ones, but I have to be willing to accept it and I have to know when to say no to the negative things in life. I started meditating and working with more spiritual beliefs because of her," said Smith.
When Smith turned 18 in Jan. her father kicked her out of the house. "Being kicked out put a pause on a lot in my life and made it seem like I was at rock bottom again but luckily I had my siblings from my mom's side to fall back on. I've been able to make progress mentally and become a brighter, happier person. Moving in with my family let me finally explore the world because they let me make my own decisions and live my life the way I wanted as long as it was safe. The new environment I was put into shocked me at first but after the first hour of it I was ready to live the rest of my life away from my life with my father and leave the damaged side of me behind. Now I live with my boyfriend and his family and I have been the happiest in all my life and I'm appreciative of everything he has done for me and how patient he's been with my growth. Since I've started living my life, my self esteem has risen and I've started working on myself," said Smith.
With the end of the year coming to a close and her time at Ridgeview completing  Smith, "will remember the teachers and counselors whose arms were always open to me and gave me the push I needed to work through school instead of giving up. And talking to the office staff on my breaks through the day because I was always welcomed."  Smith stated that many staff members at Ridgeview have helped her through her journey. "Through my first three years I was pretty closed in with what I was going through and didn't want to try for school. One teacher has helped me since freshman year, Ms. Reynolds, she has always had her door open for me even after school when she knew I didn't want to head home just yet. Junior year, I became close with Mrs. Flores and Ms. Ramos, before I started talking to school counselors senior year and finally started growing," said Smith.
After graduation Smith is planning on attending Bakersfield College and then on to a four year where she can earn a degree in early childhood development. She wants to become a preschool teacher, " so I can give children the foundation they need to start their life on the right track and make sure they have all they can need and more. I want to do art as a backup and continue living my life better than I've ever been able to," added Smith. Her journey may be over at Ridgeview but her life has just started.