Untold Stories of the Pack
      People would often say that the most difficult job in the world is the one that isn't paid for: parenting. Having to raise a kid by yourself is even tougher because all the decisions are on you and it can be nerve-wracking because you don't want to make any mistakes. Ridgeview teacher, Michelle Ramos, was faced with this kind of worry when her kid came out to her as transgender.
     When asked about her experience as a single parent, Ramos said, "I think single parenting is one of the most difficult things to do. It's all me- every decision and outcome is all me. I am the 'cool' mom and the enemy, the protector and the challenger, the boundary creator and boundary enforcer. All the activities, play dates, appointments, dinners, homework checking and phone calls are on my shoulders."
      In order to balance her teaching career and single parent life, Ramos does many things to support her family. "My career means long hours so I try to spend some of the summer with him exploring the US to make up for it. It means a lot of saving and planning during the year, but I work extra jobs on the weekend to save money so I don't have to work my entire summer. My work day doesn't end when the school bell rings. When my baby was a child my responsibilities began when I tucked him into bed; not much has changed.  Sometimes kids just need your attention, need you to be present watching Netflix or see what their latest builds in Animal Crossing or Minecraft are. Lately we've been spending from 5-8pm cooking and watching a movie or show so we can bond. We both need it even more after all the chaos of online learning started affecting us mentally and emotionally."
      For  Ramos, having a kid has its best parts and its worst parts. "The best part is seeing all the cool fashion trends, music, and movies my kid gets into (partly by my influence). The worst part is how expensive kids are and how much they care about what kids their age think. It's hard to detach them from the opinions of the outside world."
     When her kid came out to her, her first thought was, "Oh my gosh I hope I don't mess this moment up by being insensitive or dismissive." As a parent, her biggest concern for her kid was for his mental health and physical safety. "The world can be dangerous in general," she said.  
     When asked if she had a hunch her child was transgender, Ramos replied, "I was a tomboy.  I was a 90's kid so Gwen Stefani, TLC, and Aaliyah were my fashion icons and it was the grunge era so guys clothes were cool to wear. I rode ATV's and ran cattle with boys. I never saw a problem with gender bending. I still buy men's clothes to be honest. So when I saw what could be considered 'signs', I didn't think anything of it. Kids are very smart- they test the waters before they tell you anything. I'm just glad I passed whatever test I went through and I was trustworthy enough to confide in."
      Along with this new experience, her relationship with her child grew as they started learning more about this new experience. "We are learning together. We are learning that we seek guidance, but we are often the ones giving guidance to others. There's not many places with procedures and protocols in place. It means a lot of people ask us to be decision-makers when we barely just started this journey ourselves and have very little expertise or advice to offer! We've definitely learned to speak up for ourselves and not just accept people's behavior."
    According to Ramos, this new experience has come with adjustment as well. "We are still adjusting. This is the first time a lot of people I've worked with have learned this much about my life, and there's a good reason for that. Partly because that is how I like it, and partly because it hurts the most when people stop talking to you and you know why. Everywhere we go and every conversation we have could potentially end up causing trauma. We are still in what I call 'turtle mode' where we try to stay away from people and their opinions, so we can develop a protective shell for ourselves as we navigate this next phase of our journey. Sharing our journey can mean placing a very real target on our back. Some people have a lot of anger in their heart." 
     When asked if she would let her kid take transition surgery, Ramos said that she thinks it's every individual family's choice. "I feel like that's a personal question and one every child/family should decide for themselves. I have to work at remaining an advocate for my family and what I think is best for my child, me, and my beliefs as a parent when it comes to medication and hormones." 
     Ramos wishes that people were more understanding to dispel the transgender stigma. "I wish people understood that even with loving and accepting parents, trans youth are still the highest group at risk for suicide. I feel like people should know that providing mental health services to trans people is key to surviving as a trans youth, and that that right has only been recently granted. But I feel like the mothers have needs too; needs that are often neglected and overlooked because it's just what moms do for their babies."
     To all the people who are not accepting of transgender people, Ramos would tell them, "… Namaste. I believe in recognizing others where they are and focusing on me, mine, and where I'm going during my short time here on Earth!" 
     For the students who are afraid to reveal their gender to their parents, Ramos says, "Come out to me! I'm a safe space to practice. Other than that just find your family- it's not easy but they are out there. And just know that you don't have to feel rushed to label yourself as anything no matter what the world or the LGBTQ community says! Outside pressures can cause dissociation and dysphoria so come talk with me anytime you need an adult who understands and can offer you advice!" 
    "I told my story today because I have never had a chance to speak with a mother going through my experience. I would very much like to find another mother to share experiences with. Sometimes it can be overwhelming. I figured I'd be the change I wish to see and share my story since I crave that connection myself."
    From this experience, Ramos learned more about herself. "I have learned who my people are and I've learned to detach from those who aren't!"
About the Writer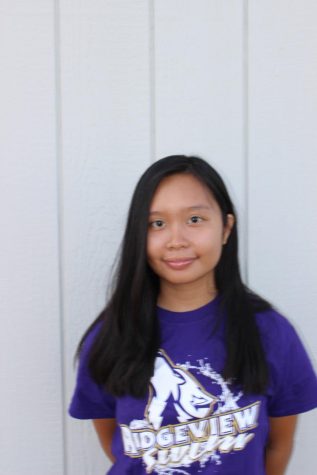 Cristina Cornista, Opinion Editor
Cristina has been on the Pack news staff for three years. Last year she served  as the Social Media editor and this year she is the Opinion editor. She...