Untold Stories of The Pack
Ghada Akroush was born and raised in Kuwait, a country in the Middle East between Iraq and Saudi Arabia to the north and south respectively and is now the Dean's secretary for Ridgeview high. Here's a look into the experiences of a Ridgeview pack member from another country.
Akroush tells of her experiences growing up in Kuwait with her family. "I had a very happy and good childhood. Lots of fun activities with my family and siblings. Lots of fun times.  We're a musical family and each one of my siblings played an instrument," explains Akroush. "I really enjoyed living in Kuwait, it was booming economically back then due to the oil industry. My dad was a contractor to the US Army and I had the privilege of attending the American School of Kuwait. The weather in Kuwait is very much like Bakersfield." Two of her favorite things about Kuwait are the colorful women's clothing and cuisine there.
In 1990, Kuwait was invaded and annexed by Iraq because of disputes regarding oil pricing and production, leading to the Gulf War. "When Iraq invaded Kuwait we didn't hear anything," Akroush recounts. "We woke up in the morning like it was a normal day. We found out a little later about the invasion when my dad went out to go to work and returned home 15 minutes later.  It was a very scary and traumatic living through the war, especially when the resistance would go between the apartment buildings and start shooting at the Iraqi soldiers; and in return the Iraqi soldiers would return fire.  We lived through that nightmare from August 2nd 1990 to August 28, 1990. Thant's when we fled to Jordan, where I lived there until I moved to the U.S. in 9/2003."
Akroush married her husband upon moving to the United States alone in an arranged marriage. "The reason I moved to the United States was because I got married and my husband is from here. I was nervous at first, not really knowing the person you're getting to marry. Leaving to another continent without any family support.  But I know that I'm a strong person, says Akroush. She adds, "The most valuable lesson I learned in life is no matter what the challenges in life you're faced with, never ever give up.  There's always a solution."
"I've been working in the Kern High School District for ten years," Akroush says regarding her career in education. "I started working in the classroom with the ELD students which I really loved with all my heart. I chose this profession because I love working with students.  My favorite part is when I explain the lesson to the students and watch their faces light up when they understand the concept presented. Ridgeview has been one of the best schools I've worked at.  I enjoy helping our students and parents!  Our school dynamic is one of the best district wide !  GOOOO WOLFPACK!!!"
About the Contributor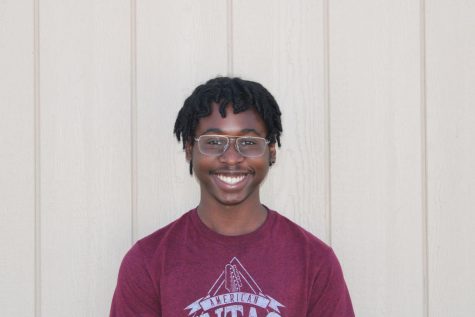 Jaysen Ford, Co-Editor In Chief
This is Jaysen third  year on the Pack news staff.  Jaysen is Co -Editor in Chief  this year. He enjoys creative writing and poetry, watching anime,...