Teens Head Back To School During Covid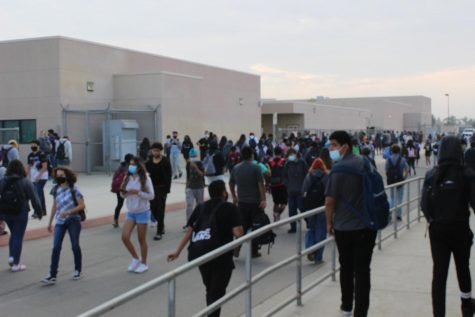 It's official as of the 2021 – 2022 school year students are back on campus at Ridgeview High School. 
After the worldwide pandemic of COVID-19 shut down schools across the country, it caused students over a year of online learning. Now students are finally back on campus for a new school year and are excited to be back in person. 
"I wanted to be back on campus for like- all day and have a normal schedule and a normal high school experience", freshman Jameson Powell said. 
Students are using being back on campus to their advantage hoping to achieve some goals for school. "I'm hoping that being back on campus will help me be focused when it comes to doing my assignments. My goals academically are to maintain good grades and to participate in as many school activities as I can," Sophomore Sue-Hailey Magana explained. 
Although most students are excited for being in-person academically, some are looking forward to things outside of the classroom. Powell explained, "I'm excited to play sports again. I haven't played a school sport since seventh grade, so it's always fun playing sports for the school."
After two months of being in-person, students have been adjusting to new ways on campus. 
"Staying on top of work mainly," Mia Martinez said when talking about her struggles on being back on campus. But when asked about her enjoyments of being on campus she said, "Spending time with my friends cause during quarantine you don't really get to do that." 
The students have even talked about what they hope for in the future of the school on campus. 
"I hope that later we'll be able to not wear masks, but right now I don't mind the masks, it keeps us safe", Magana said. "I'm hopeful we will stay on campus if we continue to be safe," she added.
They all even had advice on how we can stay on campus for the remainder of the year reminding students to take precautions and being careful, so they won't get sick.
"Keep on our mask and get vaccinated", Martinez suggested.