Ridgeview's Annual Fall Play Steps into the Spotlight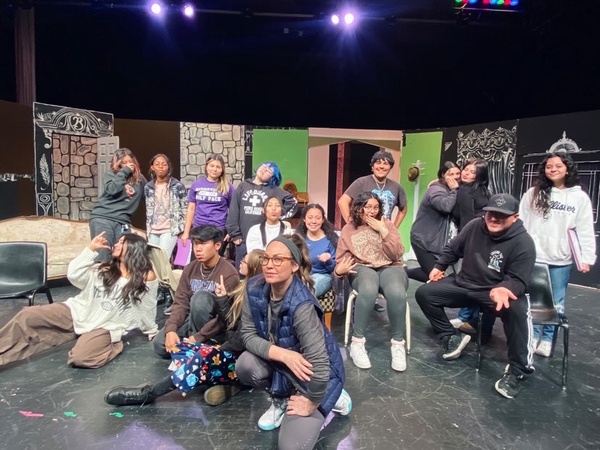 This 2022/2023 school year the drama department is doing a play called "You Can't Take It With You." directed by Kelci Lowry-Cerri. The leads of this play are Natalie Torres, Daniel Hudgins, Kaitlyn Corral and Ivan Tran. She chose these four people for the main roles because their auditions were strong and the way they portrayed the characters. The play is based on an older movie she has always loved and thought it was perfect for the holidays. The message Lowry-Cerri hopes to send the audience is to not take life for granted because all the treasures and money don't go with you when you pass away, might as well live life to the fullest. 
Natalie Torres, playing the role of Penny Sycamore in the vintage movie "You Can't Take It With You." Torres states, "I feel kind of excited because this is going to be my first play and I'm basically a lead role." One of her greatest strengths she says is being able to handle stress properly. So far Torres says that her favorite scene is where her character is bombarding everyone at the dinner table. Her and the cast try to practice everyday but if not then four times a week from 4:00-5:30. Something she looks forward to is her family and friends being able to see her perform and portray Penny on stage on the big day! 
Daniel Hudgins, playing the role of Grandpa Vanderhof in the vintage movie "You Can't Take It With You." Hudgins also states, "It's going along very quickly and very well." He says that all the cast is very good and when one forgets a line they can improvise and in the end it'll work out great. So far Hudgins says that his favorite scene is when there is a milkman that lived on their property for five years but didn't even know his name so they just gave him the name "Grandpa Vanderhof." He claims his greatest strength is his sassiness and how that is his favorite trait of the character he is portraying. At home he practices for an hour or two for memorization to prepare for the big day. One thing he looks forward to is putting the play on for people and how much fun chaotic it is going to be.
The play will run from December 8th to December 10th for about two hours since it is broken up into two acts. Natalie Torres and Daniel Hudgins feel excited to show the audience what they have to show off! They think the outcome will be great and there's no doubt it won't be.