Dave and Busters Makes its Way to Bakersfield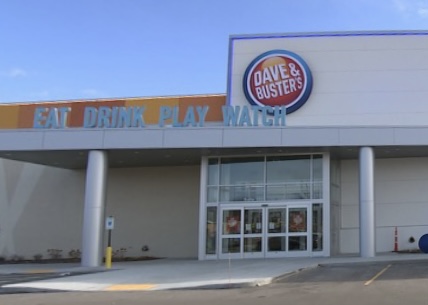 As you might or not know, Dave N Busters is in town! Dave N Busters is usually opened in bigger cities such as Los Angeles which is known for its entertainment and restaurant service. Bakersfield doesn't have a lot of fun places for teens and families to attend much as other cities do, so for Dave N Busters to come into town it should attract more people coming out and enjoying themselves. Knowing the arrival of Dave N Busters, we decided to go around asking teenagers at Ridgeview High School and see what their opinions are on the new opening. 
Tiffany Lemos, a junior at Ridgeview High, states that she has heard news about Dave N Busters opening up in Bakersfield and claims that she has also gone there a couple weeks after it opened. People have been excited since the opening of Dave N busters but it doesn't add up to the hype for some people. Lemos says, "I feel it's great that they opened a Dave N Busters but it's definitely not better than The Blvd. Dave N Busters is fun but doesn't have much of a variety of things to do." Dave N Busters is a great place to have fun but it doesn't live up to people's expectations as they would've thought. Lemos also mentions, "I was looking forward to more things older kids can do but there is just an arcade, I would choose the Blvd over Dave n Busters because they have more things to do such as bowling, pool table, laser tag, and just more opportunities to do." Overall, Dave N Busters is a good addition to the city, but it's not enough for teenagers to have fun and doesn't live up to the expectations they are looking for. 
For Bakersfield to open up such an attractive entertainment resort, it shows that this city is growing because places like this are usually in big cities where everyone can attend and have a good time. Ridgeview sophomore, Lauryn Sheppard, expresses that, "I feel like it gives a good look on Bakersfield. We don't have much here and it's a new opportunity for people to try new things and have fun. It's one of the best places to have a good time." A popular place like Dave N Busters is what the people of Bakersfield need because they can go somewhere that doesn't need to be traveled far distance in order to have fun. A place where arcade games are actually entertaining and have varieties of different activities that don't get too played out for people that'll get tired of playing. Sheppard says, "I expected a fun arcade with bright lighting everywhere.  A place to laugh and have fun with no worry abouts. Also to win fun prizes while playing competitive games." There's not too many places in Bakersfield where it brings that much fun and excitement as much as Dave n Busters does, creating as many memories playing games with the people you love being around makes Dave N Busters so popular and enjoyable. 
Berenice, a junior at Ridgeview High, believes that Dave N Busters opening up is making a good impact on Bakersfield. Berenice states, "I don't really have friends to go with but I think it's great for the community." Although people don't have the right group to hang out with, it'll still be a fun experience either way because of the energy Dave N Buster brings for the people and it knows just how to entertain people to bring them up. Dave N Busters is known for its arcade games and Berenice is looking forward to it. Berenice says "The Enthusiasm in the building with all the families there and all the new arcade games there are." One thing Dave N Busters brings to the table is how  much fun their arcade games bring and that's one of the reasons why Dave N Busters is so big till this day. Especially being with family and friends makes it even more fun and competitive when going against each other and that's what it is all about. 
To sum it all up, Bakersfield opening up a Dave N Busters is a big deal for the people of this city because of how much fun they can have now that something like this is happening and brings a variety of things to do for teenagers and families. Times like these are where you would want to bring the people around you to go to have a good time and enjoy the fun with people that are worth being with. Dave N Busters is going to make a good impact for the city and it's only going to get better by how far Bakersfield is growing.