California Is Taking Steps to Prevent Student Suicides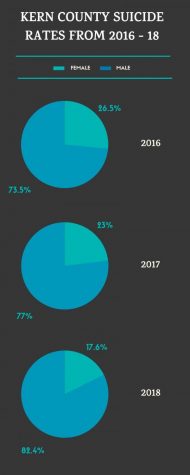 Throughout the history of schools within the KHSD, suicide has been an issue for students. Whether it be the negative thoughts, or the act itself that causes great distress among everyone involved, it has been a plague that finds itself within the minds of more than just a few students. In a response to the epidemic of student depression and suicide, the district has recently made a new addition to schools in order to reach out to students who are struggling. This is the number on the back of student ID's distributed this year (1-800-273-8255), in addition to the Crisis Text Hotline (HOME to 741741) and the Local Crisis Hotline: (868-00 or 800-991-5272), in an effort to improve the availability of mental health aid for students.

According to the Bakersfield Californian, which has discussed the issue, it has been applied to all schools from grades 7-12 in an attempt to increase the amount of mental health resources available to students whenever they need it. All public, private and charter schools are required to print the hotline numbers. The resources are said to be available 24 hours a day for whenever students require assistance in their lives. Additionally, who they, "When an individual calls the crisis hotline, they will be asked if they are in crisis and if they are suicidal. From that point on, recovery specialists will talk about what that individual is feeling and what help is available."

Head Counselor, Salvador Garcia, was asked his thoughts on the situation regarding student suicide. When asked about the number on the back of student ID's he explained, "The number on the back is to help students, and to prevent anything bad from happening." He continues with a more somber tone in his voice, "Two of my students in the past ten years have died because of suicide, and it's always not pleasant. Friends are hurt, families are hurt, and it's always because of something they needed help with. The number is there so that when counselors are not available, teachers are not available, they have someone to talk to." Following this was the question of teen suicide rates throughout the country. His response was, "According to statistics, suicide is the second leading cause of death". Then the question of whether the number will be useful or not, responding with, "

"

The number will be useful to those who use it, if it manages to save even one person then it has worked""

— Sal Garcia, Head Counselor

. Furthermore, when asked about how else suicide can be prevented among students, he advises people to talk to counselors when they can. "In the training that I've been to, they teach us to be sensitive to students who may want to hurt themselves, as they usually never say it out loud, and we are taught to identify students who may be going through a hard time in their lives."

Following this, he talked about students who may be currently going through a hard time. He pulled out a note from his drawer, left behind from an anonymous student which read, "Who can I talk to about my depression." Showing that even just a few weeks into school there are already students seeking help.

As of August, the hotline has received a total of 2,466 calls total, meaning that people are available, and are willing to help with anyone going through a difficult time in their lives and want to talk about it, in addition to the hotline, but also teachers and counselors are willing to listen to anyone experiencing depression or who have a desire to hurt themselves.