Saying Good Bye To The Pack After 15 years
    Ridgeview High School's second principal Steve Holmes is retiring after 14 years.  Holmes's journey to becoming Ridgeview's principal was a long one. He went through different professions at different schools. He used to teach social studies at West High School and later taught economics at Stockdale. 
    In 1996, Holmes became dean of students. "When I was hired as the Dean of Students at Ridgeview High School, Ridgeview was in its third year. The year after that, I became Assistant Principal for Instruction here at Ridgeview where I was in that position for seven years. Following that, I moved down to the district office and was the Information Technology director for about two and a half years. And then I returned to Ridgeview High School on March 1st, 2007 as principal of Ridgeview High School," said Holmes about his journey to becoming a principal. 
    "There were many influential people who encouraged me to go into administration. One of the more significant people was Randy Gruber. The furthest thing in my mind was to do school administration and him and a few other people encouraged me to try it out and I actually liked serving that role. It worked out pretty well for me."
   If there is one thing that Holmes would miss is the connections that were made between staff and students. "The one thing that I will miss is the connections I made here in this school which is why it's a difficult decision to retire because you're kind of breaking those relationships. Some are only as old as a few months or a year. Others are going back 24, 25 years of a connection with them. The most important thing I will miss is the connections we have made here."
    One of the principal's favorite memories is the school staff kidnapping Wilson, a volleyball in  Holmes's office with fake hair that  Holmes would talk to during meetings. "One of my favorite memories was staff members stealing Wilson from my office and keeping Wilson kidnapped for a better part of a year." 
   If he wasn't a principal, Holmes would have loved to work at Disney as the captain of the Mark Twain boat. "I'm a big Disney fan. I enjoy Disneyland and Disneyworld because it's an absolute fantasy when I go there. If I wasn't a high school principal, I would be the captain of the Mark Twain boat at Disneyland because as a captain, you get to see the top, wave at people, and interact with them if you want."
    After retiring, Holmes has a lot of plans. "I will have a post-retirement project with the Kern High School District for several years. I am  available to teachers who can do these projects that take about 30 days out of your year that allows you to contribute to the culture of the district. But, mostly, figuring out how to become an even better husband, a better father, a better grandpa, a better son in law."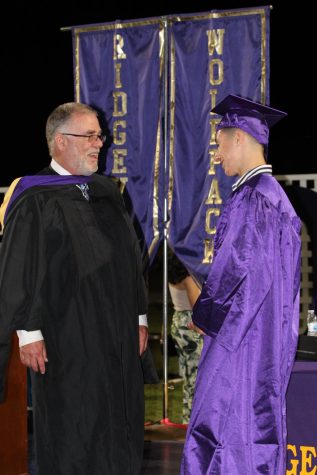 Holmes's advice to the future principal would be to use the culture at Ridgeview to their advantage. "I think any candidate for the position is going to have to learn ahead of time how our school culture is different because I believe the school culture here is different from any other school in town. It is made up of the people here. Whoever the candidate is, when they come in here, they need to use that culture to put them in a better position for any vision that individual has and achieve it. It's the power of the culture here that will help them propel that vision forward."