One Last Spike, Then It's Over
"Uplifting", that's the word Paige Miller, varsity player would describe volleyball. Miller has been one of Ridgeview's stand out players and for good reason. 
Coach Camille Ramirez talks about Miller's growth by saying, "Paige has been an amazing player even before I started coaching her, but I have noticed that she has really stepped up to the leadership role this year. She has been on varsity since her freshman year and she is one of two returners to varsity, so it's been great seeing her take charge and help her teammates out on and off the court." Ramirez also describes her adding, "She's super smart, a hard worker, and is such an asset to have on the team.  Besides her athletic skills she's so supportive, cool, calm, and collected on the court and that really helps to keep the team focused and positive."
As everyone knows, sports this year took a huge hit due to Covid-19, cutting seniors short of their last season. Consequently, the same goes for this school year, "weird, unknown, and disappointing" which many other students would agree with Miller. Although she does say her experience playing for Ridgeview the past four years was good, "My experience has been great because I have met so many friends on the team. The only downside to playing on this team is that sometimes it can be hard to catch up on schoolwork because of practices or games. It is worth it to play though because there are so many more positives to it." She also shared one of her favorite memories with the team, "The Visalia tournament that we have gone to the past three years because we all stay in a hotel together and bond with each other." The start of Miller's volleyball experience is all thanks to her grandfather, "I first started playing in the 4th grade because my grandpa said that he thought I would enjoy it and I've been playing ever since." 
Now that her high school experience is coming to an end, Miller has a few things she wishes to add before saying goodbye. "I want to say thank you to Coach Ramirez, Whitbey, and Koerner for always pushing me to be my best and supporting me through the last four years of high school. Also, to my team for working so hard this season even with everything going on." She also has a piece of advice towards the underclassmen, "My advice to underclassmen would be to get out of their comfort and get involved in school activities because these four years go by so fast."
Likewise, Coach Ramirez also has some things she'd like to tell Miller. "I, and the rest of the volleyball team, and I quote, says "We LOVE Paige! GVO! I just wish you all the best! You're such an amazing person I know you'll be successful in whatever you choose to do in life. <3" Lastly, a little advice "Honestly, I would say keep doing what you're doing! Keep up the hard work in your classes and on the court if you continue playing in college.  Which I hope and assume she will.  And also make sure to take time to enjoy life! College is fun, so work hard and have a blast!" 
About the Contributor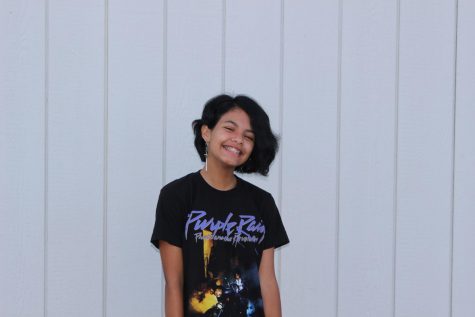 Serenity Mejia, Co-Editor In Chief
This is Serenity third year on the Pack  News staff. She this years Co-Editor in Chief. She enjoys drawing for her friends and dressing up in her own...