Accepting Their Path Toward the Future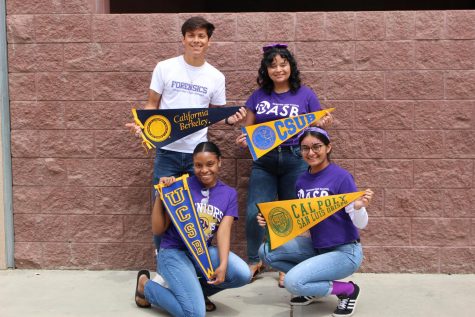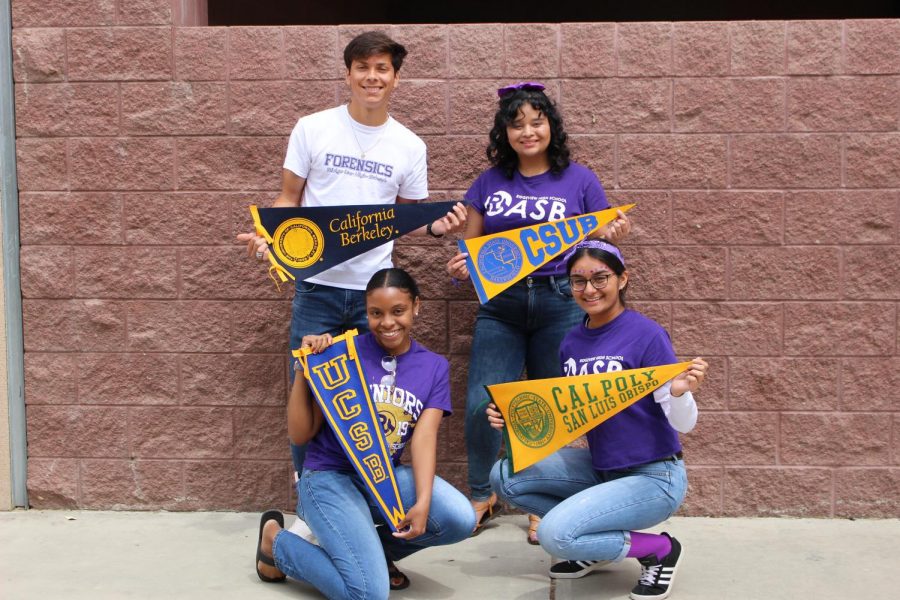 Class of 2019 is an amazing class full of many college-accepted students! Seniors Ravneet Pannu and Luis Magania have been accepted to the California Polytechnic State University of San Luis Obispo, Layla Vega and Alondra Roman are going to California State Bakersfield, Aihryus Alexander is going to University of Santa Barbara, and Gabriel Mendez has been accepted to University of California, Berkeley. All of them have been accepted to these well-known universities because of their excellent performances in school and all their hard work has now paid off.
Cal Poly University is a well-known university in California that had an acceptance rate of around 31.3% from 2015-16. Senior Ravneet Pannu has been accepted to Cal Poly to major in Aerospace engineering and Senior Luis Magania is going to Cal Poly to major in Computer engineering and possibly minor in music. Both students are looking forward to graduating and going to college and believe that they are prepared to go college but are both greatly going to miss Ridgeview. Magania expresses his love for Ridgeview and says, "I've always found Ridgeview to be my home. I love everyone here and the teachers are always supportive, helpful and taught me everything I know. I am going to miss this campus and I'll probably even come back like once a month or so. I'm going to be like that super senior." Both Magania and Pannu also created many memorable memories as Magania created memories being in marching band and Pannu expressing, "I can't really pick a single memory, but my happiest memories are of spending time with and becoming friends with people I never thought I would be so close to."
Aihryos Alexander and Gabriel Mendez are two other great seniors that are planning to go to a university a bit far from home. Alexander has been accepted to the University of Santa Barbara that is known to have an acceptance rate of 32.6% in 2015-16 and Mendez was accepted to University of Berkeley that has an acceptance rate of 16.9% in 2015-16. Both are excited with Alexander majoring in Biological Science, hoping to go to medical school afterwards and Mendez majoring in Chemical Engineering. They are looking forward to going to college for the most part, but Alexander also does express the nerves that starting a new chapter in life in a new city can have on a person. When asked if they are prepared for college, Mendez says, "Probably not," as college is known to be harder than high school. Alexander on the other hand says, "I think I am prepared for college just because my teachers and my parents have always instilled the right morals in me so I think I'll be prepared." Mendez and Alexander are going to miss Ridgeview a bit too as Mendez's best memories were formed during his involvement in cross country and track and Alexander's best memories were during Sophomore year when she met new people and started venturing out and stopped being shy.
Some seniors decided it is better to stay close to home like Laya Vega and Alondra Roman. Both of them have decided to go to Cal State Bakersfield to major in nursing. Alondra Roman says, "My goal is to be a nurse practitioner eventually and I also want to be a travel nurse." With graduation coming it has been giving mixed emotions as Roman expresses her excitement in graduating and is looking forward to college, while Vega expresses her sorrow in graduating saying, "I feel I am ready for the next chapter in my life, but it is also sad because I made so many memories here with all my friends." Both of them feel they are prepared for college but they are going to miss Ridgeview because it is filled with many memories. Vega and Roman express the love for the memories they have formed; Roman's while being a part of the Drama Department and Vega's while being a part of ASB and the Cheerleading Squad.
As we now say goodbye to the senior class of 2019, some of our university accepted students have thought of advice for students still in high school. Pannu says, "Get involved, be confident in yourself and try new things!" Roman believes that students should not be scared to take some classes just because other students tell them it is difficult. She states, "Just put in effort and work towards it and keep trying then you will succeed." Aries Alexander says, "Do what you need to do, don't goof off. Freshmen and sophomore year count; they really count. And also just do your work and have fun at the same time." With only days until graduation, we wish our college accepted students and the rest of the Class of 2019 the best as they go out and start a new journey.